Profile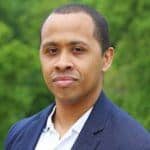 Jermaine Ravalier
Curriculum Vitae
Education

I attended St Anselms primary school in Southall (West London) and Cardinal Wiseman High School (West London). I then did my first two degrees at the University of Gloucestershire, and my PhD at Anglia Ruskin University

Qualifications

I have a PhD (doctorate), MSc (Master's degree), and BSc (first degree).

Work History

Before uni I got paid (a little…) to play football. While I was at uni I worked in a bar – made the best friends you could imagine. Since uni I've taught in a college in East London, then at the University of Westminster, and now I'm at Bath Spa Uni.

Current Job

I am senior lecturer of psychology at Bath Spa University.

Employer
Favourite thing to do in my job: Finding out why the job that someone does can make them ill is one thing, but I really like to come up with things to stop them getting ill in the first place. That's what my research does.

About Me: I'm the most normal guy. I like music, sport, love my daughter (and fiance….) and really enjoy my job

Read more

I'm a young black (well, mixed race) psychologist working at a university in Bath – there aren't too many of us! I have a 6 year old daughter who is probably the best little person in the world. Sports are a huge part of my life – I train in mixed martial arts, although used to be a semi-pro footballer (until a knee injury ended that dream…). I'm also getting married in August and on the honeymoon we are visiting Dominca where half of my family are from. I've never been there before but it's in the Caribbean – it's got to be awesome right?

My Work: I'm an academic. That means I do *some* teaching, and research what can cause ill mental health at work

Read more

So I'm not the kind of scientist that works with test tubes, brain scans, or wears a lab coat. I do 'applied' research – that means that I work with people in the real world. In particular I work with 'public service' workers to find out what it is about their jobs which causes mental health problems. Therefore I have worked with teachers, social workers, the police, NHS staff, care workers – all people who provide key services to people who need it but who are also quite susceptible to developing ill mental health because of their job.

For one day a week I also lecture at the university – I lecture in 'Personality and Individual Differences'. This means I look at controversial issues in personality and intelligence research. For example do you think men are more intelligent than women? Or do you think white people are more intelligent than black people? Are personality and intelligence due to nature (i.e. our genes and biology) or nurture (i.e. the environment around us). These are the kinds of topics that I teach on!

My Typical Day: A bit of teaching, a load of research

Read more

Because I'm not a 'typical' researcher, I don't have a typical day. One day a week I teach and then other days are full of a variety of things. Some times I'll be researching, other times I'll be meeting people, then I might be doing media stuff on the TV or radio, or I might be travelling. Whatever happens my job is REALLY flexible – this means that I can pretty much do what I want, when I want. Therefore I get to see my family all the time, I get to do (and watch) unreal amount of sports, hand out with my friends etc etc etc. I love this job because it allows me to live my life – I'd recommend it to anyone!

What I'd do with the prize money: I'd invite students from across the country to see the kind of research that I do on a daily basis

Read more

I actually didn't know there was money – what would I do? Erm I'd love to hold an event in which I bring loads of students your age to see what I do in a typical day. I'd hope that it would inspire you to work toward a job like mine (even if the topic doesn't interest you, being in academia is a good job to have).

My Interview

How would you describe yourself in 3 words?

Real, hard-working (that counts as one word…), approachable

What or who inspired you to follow your career?

You know what? There weren't any inspirations for me. I'd never see any young mixed race scientists promoting their work. That's actually why I'm doing this – to inspire other (black, white, and everything else!) youngsters to get into something that they're interested in.

Were you ever in trouble at school?

Yep. Kicked out of class a few times. Detention quite a lot.

If you weren't doing this job, what would you choose instead?

When I was younger I'd have said footballer (to be fair, that's always been my first love). Now I'd love to have been an MMA fighter. Other than that I have no idea.

Who is your favourite singer or band?

J Cole

What's your favourite food?

Caribbean food!

What is the most fun thing you've done?

Playing in the FA Cup – we went out in the final qualifying round on penalties :-( (I didn't take penalties but, as a defender, I was RUBBISH at them)

If you had 3 wishes for yourself what would they be? - be honest!

I honestly don't believe in wishes. Work hard – you'll get everything you want – and play hard. You get what you work for in life.

Tell us a joke.

Why? Are you actually going to read this…?
---
---
---